Matt's Top 10: Movies of 2011
Alright, so 2011 is over, well tonight.  So I figured while I have some time to kill in the odd hours of the morning, I might as well crack out a top 10 list of something… so why not movies.  Ok, here we go….
10) Friends With Benefits


Sure, criticize this pick as much as you want, but it was a good movie.  Justin Timberlake and Mila Kunis made a great pair on screen, and along with Mila Kunis being something great to look at for about two hours, Justin Timberlake is also much funnier than people give him credit for.  It was a funny movie, it had some meaning to it, and it was a good enough story to follow along and just enjoy.  It's no When Harry Met Sally, or You've Got Mail, or Annie Hall, but for it was a very enjoyable movie and easy to watch. 
9) Super 8


Ah, talk about fun movies.  Super 8 was just cool.  Unfortunately I feel like it was easily forgotten about this past summer, but I really did love this movie.  It was absolutely something different to follow around a cast of kids, and it was done so well that we didn't feel like it was a kids movie, because it was far from that.  Of course there's always the "oh JJ Abrams didn't match the hype" thoughts thrown out there, but if you stop worrying about the mysterious creature so much, you'll realize this was a really cool story, and one to get into.
8) Rise of the Planet of the Apes


PERFECT summer movie.  I will admit I am not so up to date on everything that is Planet of the Apes, but this prequel (or prequel reboot, whatever you wanna call it), was awesome.  For starters, James Franco was great, and really established a strong connection with him ape, Caesar.  I was into this movie all the way through and a lot of cool stuff really happened.  Watching the conflict between human and animal was pretty interesting too.  The apes rise!  Pretty cool. 
7) The Descendants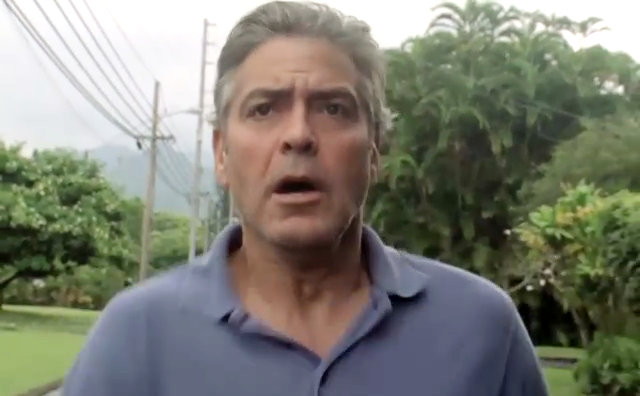 Your typical pre-Thanksgiving limited release that will end up being an Oscar contender.  I used to not like George Clooney, maybe I was bitter at him for what he did to Batman, but The Descendants was more proof that he can be apart of great movie after great movie.  This was a movie by Alexander Payne, who's made some pretty good ones in his day, and this reached his level.  It was an interesting story, with Clooney's character's wife dying, and it turned out she was planning to leave him.  It gives quite a perspective, on well, everything.  While it may not be the most light-hearted story, it's still a great movie. 
6) The Muppets


I will of course have no shame in admitting I loved The Muppets… but who would?!  Jason Segel's presence truly helped boost this for me, but it was a very fun movie, and overall a strong story.  I don't like when I hear people question the constant celebrity cameos, that's what The Muppets was always about.  But it was pretty simple.  It was light, friendly, funny, and quite frankly just delightful.  And I was never even a huge Muppets fan.  I stand by what I said after I saw this, and EVERYONE would like this movie. 
5) Thor


This just kicked ass.  YEAH!  I said it!  Going in I was definitely a little behind on the entire story of Thor compared to my knowledge (which isn't even that great) about all the other Avengers, but I really liked Thor.  Like most superhero movies these days, this was just a great movie.  It had story, it had meaning, and it had a very strong cast.  Shout out to Natalie Portman, who for a very basic role in a Superhero movie, did fantastic.  But watching the development of Thor definitely got me jacked up some more for The Avengers, which if you keep looking, you'll see eventually went over the top. 
4) X-Men: First Class


X-Men, redeemed!  I still didn't mind X-Men: Last Stand or X-Men Origins: Wolverine, but First Class was on point.  This was another prequel or prequel/reboot… whatever.  Forget all that continuity nonsense, and just understand that X-Men was about as perfect as it could get.  It helped that I was a very big X-Men fan growing up, and I definitely thought it was cool seeing the beginning of what the X-Men were on the big screen.  For some reason it can still be awesome to see how things unfold when really you know the ultimate ending (in this case, Magneto gone bad).  I will definitely be looking forward to watching this story continue. 
3) 50/50


This was truly my perfect balance of a movie.  It was funny and serious.  In all honesty probably the best story a movie had to offer all year, and it was topped off with great performances from Joseph Gordon-Levitt and Seth Rogen, who worked perfectly as the best friends they were portraying.  But a story that overall should be sad really was one that gave a lot of hope.  It was about life, friendship, and getting by… anyway that you could.  I definitely expect this to make the Oscars list, and if it doesn't then I will just throw my hands up.  Really a great movie, if you haven't seen it then you should.   
2) Captain America: The First Avenger


One word; AWESOME.  I wasn't super excited for Captain America for some reason, but had to see it.  And the more I saw previews I really wanted to see it, and then when I finally saw it I was absolutely blown away.  Cast was great, story was cool, and the action was excellent.  Watching it all unfold for "the first avenger" was much cooler than I thought it'd be.  You see scrawny Steve Rogers at the beginning and it is impossible not to root for him, and then it gets pretty easy to root for Captain America.  And then I do have to give credit for this movie coming off very well for taking place in the 1940's, I thought it could feel dated.  But believe or not, it has a bit of a sad ending… even though we know the end really isn't near, as The Avengers (let's go!) is coming soon enough.
1) Moneyball


Maybe, just maybe, this is the baseball fan in me, but this movie was perfect, from every angle.  It was funny, it was smart, it was bold, and it was real.  The true story that is Billy Beane and Moneyball is a great one, and the movie Moneyball nailed it.  Just think how gutsy it is to follow through with what only you seem to believe in, and then succeed well beyond expectations.  This was a true story that did not have a personal incredible ending, however it was a true story that forever changed the game of baseball, and in a way just about anyone could appreciate, even if you hate baseball.  It was this year's The Social Network, and I believe a few steps ahead.  Aside from that, I also need to note how great Brad Pitt and Jonah Hill were… a sentence I never thought I'd put together.   And I don't know how exactly Billy Beane is as a person, but Brad Pitt definitely made a very believable Billy Beane… at least I think so.  This should win Best Picture, no doubt.